I'm a bit of a Francophile these days.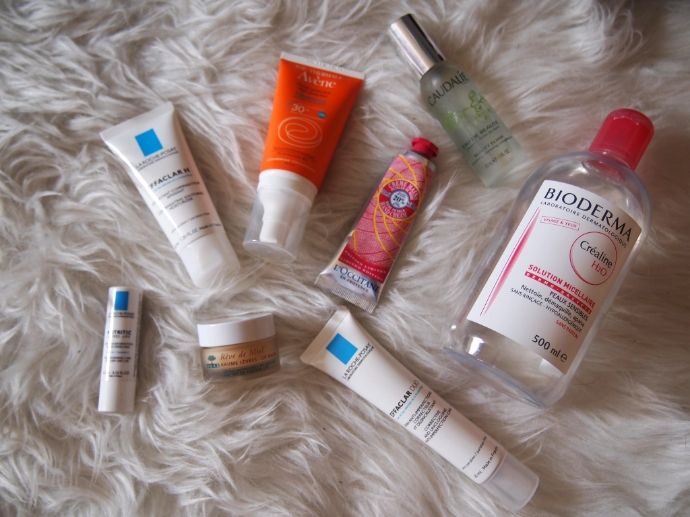 I've loved French culture - style, film, cuisine - for as long as I can remember, and some of my favorite courses in school were my French language classes, but as of late it's gotten a lot more intense. I am dying to visit the country sometime this summer and hopefully will be able to sooner rather than later. I'd love to go back to Paris, but I'm also wishing to explore more of Provence and the French countryside. I know that when I do, the visit will not be complete without an homage to a Pharmacie...I can't even begin to explain my love for French skincare. It's just the best and my skin has improved so much since I started using these products.The rest of the world has caught on and most brands are available in other countries, but I just would love to explore some of the lesser known brands and products. In the meantime, here's a few of my favorites!
(Side Note: I've just ordered an embarrassing amount of lifestyle books all with titles that promise to teach me how to be a French girl and I've come to the conclusion that Jambon Beurre may just be the perfect food.)
Clockwise, from Top Left
1. La Roche Posay Effaclar H - My favorite moisturizer. It's rich and hydrating, but because it's formulated for oily skin, it is not greasy. Amazing if your skin is oily, but also dehydrated!
2. Avene Cleanance High Protection Sunscreen SPF30 - The best SPF I've used. Just enough protection for day to day use, it protects against UVA and UVB rays. Plus its super water resistant. Perfect for those long and sweaty summer days.
3. L'Occitance Rose Hand Cream - not exactly from the pharmacie, but I love L'Occitance skin products in general, and this hand cream is so softening, and it absorbs in to the skin right away, providing long lasting moisture. And the smell is divineeee.
4. Caudalie Eau de Beaute - To be honest, I don't know if this has done anything interms of improving my skin, but I love the scent of it, and find the misting action so refreshing. Totally gives new life to makeup that isn't looking as fresh as you would like it to.
5. Bioderma Crealine h2O - I love this to remove all my makeup. It's not the best for waterproof mascara, but given how gentle and non-irritating this is, it does a pretty solid job.
6. La Roche Posay Effaclar Duo - This is the absolute star here. I use this as night all over my face and it leaves my skin so soft and blemish free. I also use it during the day as a spot treatment if I do happen to get a spot, and this fixes the problem so quickly. I will never be without this!
7. Nuxe Reve de Miel Lip Balm - Hands down best lip balm I've ever used. The texture and scent are just to die for and it keeps my lips moisturized for HOURS. I have lips that have the tendency to dry out and get flaky, but that has not happened since I discovered this miracle product. I keep it by my bedside and apply morning and night. LOVE!
8. La Roche Posay Nutritic Lip Balm - I keep this in my handbag just for touch ups, which isn't really that often since the Nuxe is amazing. Still I like to carry this around with me just in case, since I find the stick more convenient and hygenic for on the go!
Next up on my wishlist is Klorane Hair Care! Any recommendations?
xx