damn, no one told me that getting a decent outfit shot would be so difficult. Or maybe it's just me (probably)...Since I got so many nice comments on my last personal picture, I thought that every once in a while I could do an outfit post. I had some free time today, which is a luxury these days, and decided that my outfit was semi-decent enough to post. But unfortunately I didn't have a photographer on hand, so I had to resort to other options. First, I tried to do the old mirror photo deal...so cheesy. I took about a million pictures just like this one before I realized that I wasn't getting the bottom half in...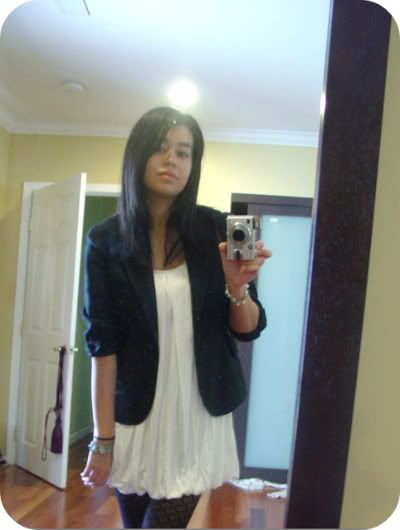 So that wouldn't cut it...I decided to use the self-timer. Only problem is, I hate using flash and the lighting in my house wasn't ideal. I went outside...and out there it was too bright. All the pictures ended up with my face looking extremely angry and/or squinty. Not a good look. This is one of the only decent shots I got...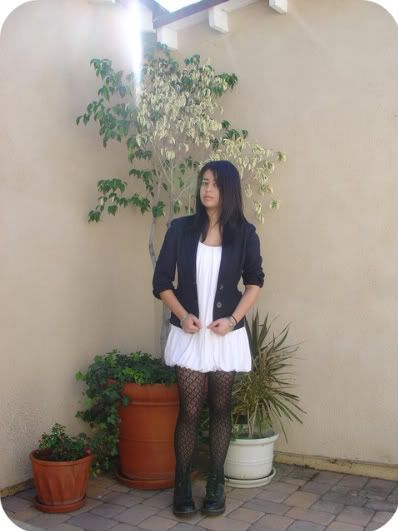 I'm so torn about these doc marten boots. I really love them on other people, but I just don't know if they're right for me. They were my moms from the 90's, I'm guessing? I've had them laying around forever, so I decided to take them out for a test drive today and wore them to class. They're....big. They're the right size, but they just feel so bulky, you know? They're very different from the shoes that I usually wear. And I feel like my legs are too short for them. I think they make me look even shorter than I actually am. Which is short. I don't know...maybe I'll try them again, maybe not.
wearing: Luella blazer, f21 dress, free people tights, doc marten boots, vintage & f21 jewelry