I love reading fashion magazines as much as the next person, but a lot of times I find it a little hard to get real life inspiration from the editorials in magazines. Sure, they're pretty to look at, but I think that the looks represented there need to be taken with a grain of salt. So a lot of the fashion inspiration that I try to apply to my everyday style comes from people off the street...my fellow human beings, if you will. Here's a few of the shots that I've seen recently that have sent my heart aflutter...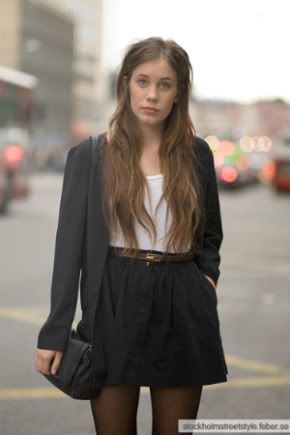 I basically dig everything that this girl has going on. Her look is so simple, easy and chic. How does she get ther hair looking so sexily dishevled? Everytime I try to go for a similar look, I end up looking like a lion.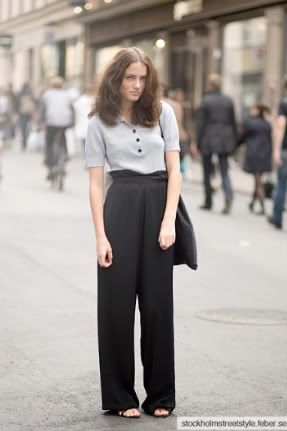 Another way cool Swede. Again, her style is oh-so-simple and carefree. We're getting a bit closer to the lion-look I mentioned previously. Except she manages to make it look good. Boo.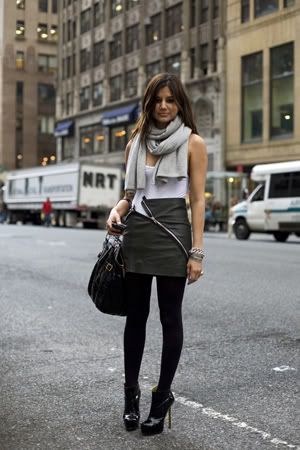 Woo hoo! I love this outfit. Those YSL booties are ah-mazing. Anyway, I don't know how practical this outfit is, seeing as she's wearing a tank top with a scarf and tights...But who cares? Since when is fashion supposed to make sense? If only I had the guts to wear a zippered bandage skirt...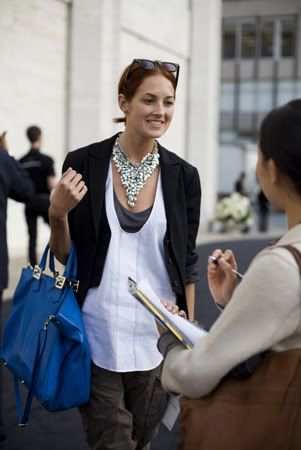 Ah, Taylor Tomasi. I love the colors she has going on here. That bright cerulean Fendi (I like to throw in
The Devil Wears Prada
lingo at every possible oppurtunity, btw) contrasted with her flaming red hair is just love. And speaking of love...that necklace? Gimme!!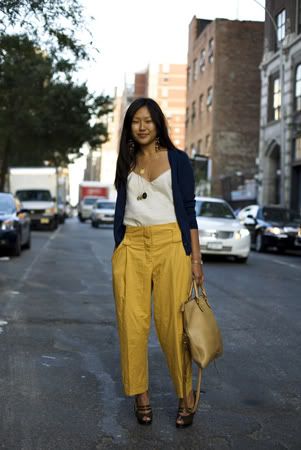 Another great display of color. This combo is gorgeous.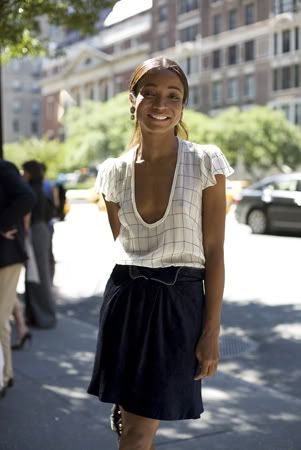 And lastly...Genevieve Jones. Now normally I'm not a huge fan of hers, but I swooned when I saw this outfit. That shirt needs to find it's way into my closet. And to those who, like me, plan on copying this outfit in the near future...the visible nipple is optional. Just thought I should let you know.
credit: style.com and stockholmstreetstyle.feber.se