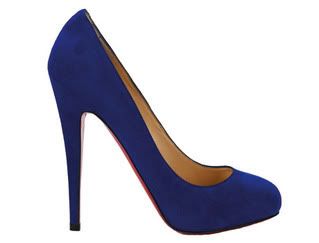 It all begins the same way... On a recent excursion to Barney's, I happened to stumble across these bad boys. Talk about a hello, lover moment. I checked the sticker on the gorgeous red sole and almost had an epiphany. Not only was it my size...no, no, no. It was the last one in stock. If that is not a message from God , then I don't
know what is.
Blue Suede Christian Louboutin Declic...The shoe was absolutely perfect. The shape was classic, flattering and surprisingly comfortable despite the 4.5 inch heel. The color was rich, vibrant and would be the perfect accent on an otherwise simple outfit. I needed those shoes!
Unfortunately, my stay in shoe nirvana was short-lived. Monetary issues suddenly called into mind. Alas, I don't have $650+ dollars just lying around.
So goodbye, my lovely loubies...for now.